Numbers

by Mary Cornish
I like the generosity of numbers.
The way, for example,
they are willing to count
anything or anyone:
two pickles, one door to the room,
eight dancers dressed as swans.
I like the domesticity of addition--
add two cups of milk and stir--
the sense of plenty: six plums
on the ground, three more
falling from the tree.
And multiplication's school
of fish times fish,
whose silver bodies breed
beneath the shadow
of a boat.
Even subtraction is never loss,
just addition somewhere else:
five sparrows take away two,
the two in someone else's
garden now.
There's an amplitude to long division,
as it opens Chinese take-out
box by paper box,
inside every folded cookie
a new fortune.
And I never fail to be surprised
by the gift of an odd remainder,
footloose at the end:
forty-seven divided by eleven equals four,
with three remaining.
Three boys beyond their mothers' call,
two Italians off to the sea,
one sock that isn't anywhere you look.
(from Poetry magazine, Volume CLXXVI, Number 3, June 2000)



Religious Consolation

by John Updike
One size fits all. The shape or coloration
of the god or high heaven matters less
than that there is one, somehow, somewhere, hearing
the hasty prayer and chalking up the mite
the widow brings to the temple. A child
alone with horrid verities cries out
for there to be a limit, a warm wall
whose stones give back an answer, however faint.
Strange, the extravagance of it—who needs
those eighteen-armed black Kalis, those musty saints
whose bones and bleeding wounds appall good taste,
those joss sticks, houris, gilded Buddhas, books
Moroni etched in tedious detail?
We do; we need more worlds. This one will fail.
BLAZING FRUIT
(or The Role of the Poet as Entertainer)

by Roger McGough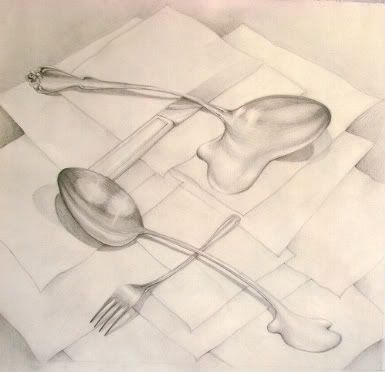 During dinner the table caught fire.
No one alluded to the fact
and we ate on, regardless of
the flames singeing our conversation.
Unaware of the smoke
and the butlers swooning,
topics ranged from Auden
to Zefferelli. I was losing
concentration however, and being
short on etiquette, became tense
and began to fidget with the melting cutlery.
I was fashioning a spoon
into a question mark
when the Chablis began to steam
and bubble. I stood up,
mumbled something about having left the gas running
and fled blushing
across the plush terrain of the carpet.
The tut-tut-tutting could be heard above
the cra-cra-cracking of the bone china.
Outside, I caught a cab
to the nearest bus stop.
While, back at the table,
they were toying with blazing fruit
and discussing the Role of the Poet as Entertainer,
when the roof fell in.
(poem from Holiday on Death Row by Roger McGough (Jonathan Cape, 1979).
AN APOLOGY

by Roger McGough
Owing to an increase
in the cost of printing
this poem will be less
than the normal length.
In the face of continued
economic crises, strikes,
unemployment and V.A.T.
it offers no solutions.
Moreover, because of
a recent work-to-rule
imposed by the poet
it doesn't even rhyme.

(This is what happens when you suffer from a writer's block)
Poetry Should Ride the Bus

Ruth Forman
poetry should hopscotch in a polka dot dress
wheel cartwheels
n hold your hand
when you walk past the yellow crackhouse
poetry should dress in fine plum linen suits
n not be so educated that it don't stop in
every now n then to sit on the porch
and talk about the comins and goins of the world
poetry should ride the bus
in a fat woman's Safeway bag
between the greens n chicken wings
to be served with Tuesday's dinner
poetry should drop by a sweet potato pie
ask about the grandchildren
n sit through a whole photo album
on a orange plastic covered La-Z-Boy with no place to go
poetry should sing red revolution love songs
that massage your scalp
and bring hope to your blood
when you think you're too old to fight
yeah
poetry should whisper electric blue magic
all the years or your life
never forgettin to look you in the soul
ever once in a while
n smile.


(from We Are The Young Magicians Beacon Press April 1, 1993)

If

Rudyard Kipling
If you can keep your head when all about you
Are losing theirs and blaming it on you;
If you can trust yourself when all men doubt you,
But make allowance for their doubting too;
If you can wait and not be tired by waiting,
Or, being lied about, don't deal in lies,
Or, being hated, don't give way to hating,
And yet don't look too good, nor talk too wise;
If you can dream - and not make dreams your master;
If you can think - and not make thoughts your aim;
If you can meet with triumph and disaster
And treat those two imposters just the same;
If you can bear to hear the truth you've spoken
Twisted by knaves to make a trap for fools,
Or watch the things you gave your life to broken,
And stoop and build 'em up with wornout tools;
If you can make one heap of all your winnings
And risk it on one turn of pitch-and-toss,
And lose, and start again at your beginnings
And never breath a word about your loss;
If you can force your heart and nerve and sinew
To serve your turn long after they are gone,
And so hold on when there is nothing in you
Except the Will which says to them: "Hold on";
If you can talk with crowds and keep your virtue,
Or walk with kings - nor lose the common touch;
If neither foes nor loving friends can hurt you;
If all men count with you, but none too much;
If you can fill the unforgiving minute
With sixty seconds' worth of distance run -
Yours is the Earth and everything that's in it,
And - which is more - you'll be a Man my son!

[This is the Olympics' official epitaph(?)]
The Plumpuppets

by Christopher Morley
When little heads weary have gone to their bed,
When all the good nights and the prayers have been said,
Of all the good fairies that send bairns to rest
The little Plumpuppets are those I love best.
If your pillow is lumpy, or hot, thin and flat,
The little Plumpuppets know just what they're at:
They plump up the pillow, all soft, cool and fat --
The little Plumpuppets plump-up it!
The little Plumpuppets are fairies of beds;
They have nothing to do but to watch sleepyheads;
They turn down the sheets and they tuck you in tight,
And they dance on your pillow to wish you good night!
Otherwise
by Jane Kenyon
I got out of bed
on two strong legs.
It might have been
otherwise. I ate
cereal, sweet
milk, ripe, flawless
peach. It might
have been otherwise.
I took the dog uphill
to the birch wood.
All morning I did
the work I love.
At noon I lay down
with my mate. It might
have been otherwise.
We ate dinner together
at a table with silver
candlesticks. It might
have been otherwise.
I slept in a bed
in a room with paintings
on the walls, and
planned another day
just like this day.
But one day, I know,
it will be otherwise.